2023-08-24
Building a Hot Tub from Scratch 🛀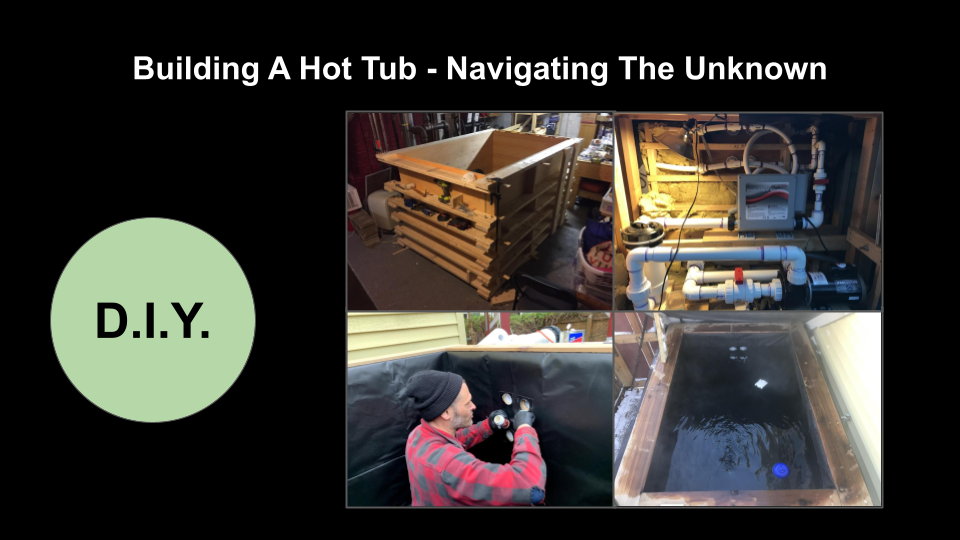 I went to Iceland a while back, which was fantastic. During my time there, I enjoyed a daily soak in a hot tub. After a few days of soaking I noticed a lot of nagging aches and pains were gone. So I thought, damn, I need to get one of these for my house some day. I would shop around, but never pull the trigger. Finally, in 2019, I made the decision to pursue this.
I wanted a big round, 4 feet deep cedar hot tub. Now, since this was a pretty expensive purchase, and I didn't want to be compulsive, I figured I would budget the purchase. January 2020 rolled around, I was ready to buy, but caught up on which cedar tub manufacturer to buy from, and I had it down to three. Then February 2020 came, the COVID-19 shut down, and everyone bought every hot-tub, all at once, and there was an 18 - 24 month wait …but I wanted a hot tub sooner than that.
That's when the idea of building one struck me. How hard could it be? So I got to work around October 2020.
I originally intended to base the hot tub off of a prefabricated water tank, but due to supply chain issues, I could not get a tank in appropriate dimensions, so I went with a custom built wood basin with a custom liner. The hot tub related forums had a lot of mis-information on them about what you can and can't build a basin out of, so I looked into aquafarmer and back-yard fish enthusiast communities, and picked one of their designs.
I bought hot tub parts, which are the controller, heater, filter, and other related items from buildahottub.com, Andi over there knows everything about these systems.
The basic specs are:
Above ground design
A base framed with pressure treated timbers and filled in with 0.75 inch packed stone.
Walls built with standard construction boards, filled with insulation, and lined with plywood and siding.
Industrial pond liner, custom made, in a box shape
All necessary of hot tub heaters and controllers
Plumbing pipe, hoses, connectors
A standard hot tub cover
Problem 1 - City Permitting
The first wrinkle was the city permitting. I started this process in September of 2020. We are allowed to have hot tubs, but I needed an electrical service upgrade on the house to accommodate a hot tub. It took the city about 6 months to sign off, which threw some dependencies off course. I only interacted with them a little, I didn't get the sense they excelled at customer service and I'm totally fine not having to work with them again. I later learned after speaking to area trades people, that a significant number of electricians will not take work in my city.
Problem 2 - Changing the Construction Location
By now it was October. I originally planned to build the hot tub in the place that was to be used, but since the city was doing what they do best, and the weather was turning, I decided to start the work on the basin inside. As the weather turned, I opted to begin work on the basin indoors. This required constructing the basin in a way that it could be disassembled and reassembled in its final location.
Electrical Work Approved ⚡
It was now March 2021. The city finally agreed the electric work could start. The delay was over the location of the electric meters, which usually go outside of the house, but they are inside of ours, for a good reason. We live in a dense area, and there is no other location they could be at other than the front of the house, or inside of the basement. They were insisting they had to be relocated outside of the house. They didn't want the electric meters in the front of the house because they would block the sidewalk, but the sidewalk is 10 feet away. Then they suggested the driveway, but the driveway is between two buildings and narrow. A vehicle would have hit the meters. They can't go behind the house, because of other obstructions. It took several meetings, and input from both the electrician and the utility company for reality to set in, which means the meters are staying where they are.
Problem 3 - Less Than Ideal Basin Liner
I chose an industrial pond liner because at the time, it was the only one I could find that could be custom made into a box shape. Had I known a bit more about what to look for, I could have gotten a box shaped pool liner made. Both types of liners are durable and will hold water, but the pond liner isn't compatible with the seals on the through-wall fittings. The through-wall fittings are the plumbing parts that circulate the water between the basin, filter and heater.
So after a lot of leaks, I had to come up my own through wall design for this type of tub. On top of that, I also had to remove the hot-tub jets and replace them with a jet-like construct that I made out of standard plumbing parts so I could get those to seal correctly.
Problem 4 - Unexpected mistakes
I don't think many people have built a hot-tub like this, and since this was my first try, I made mistakes. One of them was making some cuts on the liner. To repair them, I had to learn how to heat-weld.
Conclusion
Today, I have a fully functioning hot tub that holds water, along with some plumbing skills that I've had to use a few times since then.